Well, It took me almost the entire week, but I read through every one of the link ups of last weeks first
Bits of Splendor Monday.
I loved seeing how you each picked out the beautiful distinct moments of your every day life.
"
There are moments that I need to give up the "right" way to parent - to let go
and meet my kids needs in the moment. To extend a little extra grace.
And I also need to allow God to do the same for me."
I loved reading through every one of your posts and getting to know you a bit more. I hope you took a few minutes to hop over to a couple of new places and make some new friends. That is really one of the goals that I have for this link up. Not only do I hope to encourage you to seek out those little bits of beauty in your week, but also to cultivate a community here of people who are willing to encourage and motivate one another
Something God has really been showing me lately is that every person has a desire to be heard. We each have a voice, an opinion, a story to tell. If you think about it, we hold a lot of power in our voices. In our words. We have the ability to encourage, inspire, motivate and even change things with just a few of them.
What I hope to encourage most here is to not only seek out the moments and small details
that make life so distinctly beautiful,
but also the people

.
Your children, your husband, your parents, a friend or neighbor....but strangers too. The person at the drive thru window, your mailman, or librarian. Those people that very often go unnoticed. Seek them out. Say hello. Ask how their day is going. You will be surprised at how a persons face will change when you show even just a bit of interest in their day.
The same goes for here. A simple, thoughtful, genuine comment, could mean so much to a person and end up cultivating a friendship that might not have ever been. Stretch out a bit. Expand your walls. Meet some new people. Whatever you do this week to seek out the splendor of the every day, seek out the people in it too.
Also be sure to check back this week for a really special

GIVEAWAY

that I am really excited about!!
I can't wait to see what you have to share. Happy Monday Friends!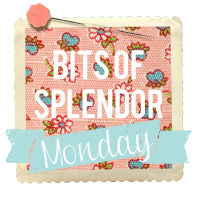 "You will miss what matters most in life if you are only ever looking for the spectacular"
It truly is the little, distinct things that make life big. The important thing is taking the time to see them and I believe it can be in anything. A project, a recipe, a special moment or milestone, maybe just a word or picture you found encouraging.
Please remember to link up to your specific post and also include the Bits of Splendor Monday button in your post.