Happy Monday!
I gotta tell you, I am so looking forward to this new week. We had a really good spring break week with lots of fun, family and way too much eating.
Then this weekend was just as full. Asher and Bella were in a wedding that took up most of our Friday and Saturday. We got home late this afternoon after church and have been laying low since. I am currently watching "A Walk in the Clouds" on tv and wondering why I've never seen it before. I mean Keanu Reeves isn't the best actor, but I can look past that for a good story. And at this point a movie that requires minimal attention to follow whats going on, is just what I'm needing.
Bella looked at me tonight and said "lets not go anywhere tomorrow, mom"
I'm with you sister.
So here's to a new day and a new week!
I love reading how you find a little bit of splendor in your week and thought I would point you in the direction of a couple of posts that were linked up last week. Hope you find some time to meet new friends and find a bit of inspiration through others too!
Also, can I just tell you what an inspiration Hanna from
bouffe e bambini
is? If you don't know her or haven't read her story, you should! The girl has lost over 100 lbs through exercise and changing the way she eats. She linked up her post about running in
her first 1/2 marathon
last weekend. So motivating and inspiring.
How did you find a Bit of Splendor in your week? Link it up and share it with us.
It truly is the little, distinct things that make life big. The important thing is taking the time to see them and I believe it can be in anything. A project, a recipe, a special moment or milestone, maybe just a word or picture you found encouraging.
"You will miss what matters most in life if you are only ever looking for the spectacular"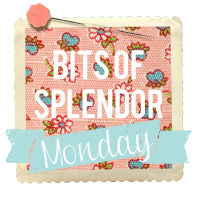 PLEASE:
-Don't forget to use the Bits of Splendor button or a text link in your post so that others can join us.
-Do not link to your blog in general, but to your specific post.
-Visit and meet some new friends!!!