we've lived in this house since asher was just about 16 months old.
i have a picture of him standing on our front door step. i remember taking it because i wanted to remember how little he was when we first moved in. i took the picture with a throw away kodak camera. i was 3 months pregnant with Grace.
5 years later this house now holds so many memories.
we will out grow it one day.
the next stage of our lives will happen and we will move forward.
but for now it's ours and i think it always will be in a way.
you know those houses you remember growing up in.
you drive past them years later and they still feel like yours.
new people, new look, new grass, new flowers. but the memories of living there are still so clear and that house is still yours. at least in your memories.
i think this house will be that house for our kids.
times in my life, ive wished for more. ive hoped for different.
but right where we are. right now. this is a good place.
one day we'll need a bigger house.
i can't figure out the right lay out for my living room because it's such an open space.
the master bedroom is smaller than mia's.
there are way too many cabinets in the kitchen then i know what to do with...
i could go on, but they don't really matter.
memories have been made here.
some that are a little painful to remember
many that are beautiful to remember
all that we will hold forever and ever.
Mia is now the age Asher was when we first moved in. 16 months old.
we've been thinking and talking about when we'd like to have our 4th baby. It's sort of strange for me to not be pregnant again, and yet really really peaceful too.
as much as i can't wait to hold a new little baby in my arms. as much as im aching to feel that little life kicking inside of me...as much as all that,
im just as content. right where we are.
there's a stillness in my spirit that knows it's just not time.
i was a few steps behind brandon and the kids tonight as we walked to our park.
the sun was low and so beautiful. and in that moment, i just knew complete contentment...
...confidence that even if it's for just a bit longer,
right where we are is a really good place.
and thats a really good feeling.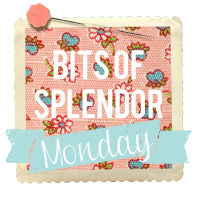 How did you find a little bit of splendor in your week? I hope you'll link it up and share it with us. Don't forget to grab a button so others can join us too!
It truly is the little, distinct things that make life big. The important thing is taking the time to see them and I believe it can be in anything. A project, a recipe, a special moment or milestone, maybe just a word or picture you found encouraging.
"You will miss what matters most in life if you are only ever looking for the spectacular"