Another Monday, for real? These just keep sneaking up on me, I swear!
I'm all over the place so here's a few randoms for you to start the week.
-It hit 90 degrees on Saturday. And our car, which is not even old and should not be giving me trouble, decided to anyway, and stopped blowing cold air. But I had errands to run yesterday so I toughed it out. Windows down and my sonic route 44 Diet Dr pepper to keep me going. I had flash backs of high school cause back in high school I thought it was fun/cool to drive with my windows down and the dixie chicks blaring. Did you do that too? Do you still do that? Cause secretly I do it now and then when it's just me in the car. What is it about driving with the windows down that makes you feel wild and free.....till you catch a glimpse of the car seats in the backseat.
-Each spring I buy a new hydrangea plant for our front entry. They remind me of our babies in heaven and make me smile. Sams, by the way, has huge gorgeous hydrangea plants this time of year and they are only like 17 bucks. Sams also has the best polish hot dogs. Sams is just awesome, is it not?
-I'm looking forward to this weekend. Are you? I love Easter. I love why we celebrate it and teaching my kids why we do. I love dressing them in their Easter outfits and the egg hunts, Easter baskets and all the candy. We are celebrating with B's side on Saturday, church with everyone on Sunday and then celebrating some more with my side in the afternoon. Two thoughts about this: I will probably gain 5lbs, and my kids are going to be exhausted come Sunday night.
-I've yet to have a cadbury egg this year. I've resisted because I'm staying away from sweets, but I'm about to cave. A cadbury egg after Easter isn't as much fun. Some people prefer peeps. I'm not a peep person though. You?
-On a totally similar note, do you have any fresh, easy and healthy recipes to share? I'm looking for some new ones to add into our rotation. Share some and you'll be my best friend. I'm going to try
this one
as a side this week and
this one
looks really good for Saturday's breakfast, or even as dinner one night.
-I went clothes shopping for Asher yesterday. He is no longer in the section that has a "t" after the number. I kept wanting to go in that section anyway though and found myself looking at those little baby boy one piece romper outfits that are my fav. I don't think they make those in a 6 though.
-The boy is at the age where he runs his clothes into the ground. literally. What he does when I'm not around I'm not sure but it must include a lot of sliding and skidding around on his knees. I suspect possibly break dancing because almost every pair of his pants has holes in the knees. It's sort of annoying but I also kinda think it's cute, cause it's such a typical 6 yr old boy thing and it means I have one of those typical 6 yr old boys. Which makes me both happy and sad. Such perplexities to being a mom.
-We ran into an old teacher of mine from high school. I started thinking it had been almost 10 years since I graduated and that I was getting old. Then I realized it's been 12 years and that I
am
getting old. I've got lots to do before I turn 30 in about 6 months. I think I'm going to make a list. Did you ever make one? Will you?
-Hope you had a good weekend. I'm ready to get this week started, how about you? Perfect, let's do it then, shall we? Happy Monday my friends!
It truly is the little, distinct things that make life big. The important thing is taking the time to see them and I believe it can be in anything. A project, a recipe, a special moment or milestone, maybe just a word or picture you found encouraging.
"You will miss what matters most in life if you are only ever looking for the spectacular"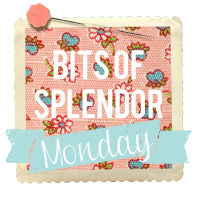 How did you find a little bit of splendor in your week? Share it with us!
Don't Forget:
-Grab a button so others can join us too! Or put a text link in your post.
- visit other people and make some new friends!
-please link directly to your post. And no giveaways!