4 Easter Celebrations
2 birthdays
4 Easter Egg Hunts
104372 pieces of candy
1 Blue bonnet photo session
Multiple bug bites
A couple minor melt downs
3 Easter Baskets..
Lots of Family
Too much food
1 Cadburry Egg.
3 Easter Services
31 decisions for Christ at those services
1 reason we celebrate
How was your Easter weekend?
I crashed and burned last night, so I apologize the link up is late. But I can't wait to read what you have to share! Happy Monday sweet friends!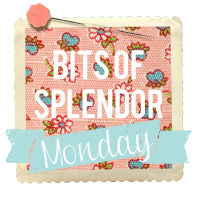 It truly is the little, distinct things that make life big. The important thing is taking the time to see them and I believe it can be in anything. A project, a recipe, a special moment or milestone, maybe just a word or picture you found encouraging.
"You will miss what matters most in life if you are only ever looking for the spectacular"
How did you find a little bit of splendor in your week? Share it with us!
Don't Forget:
-Grab a button so others can join us too! Or put a text link in your post.
- visit other people and make some new friends!
-please link directly to your post. And no giveaways!