It was a good weekend here. The kind that gets you excited that summer vacation is so close. This is Asher's last week of school. I am looking forward to having my 3 little chicks home with me again. I plan on wearing them out at the pool every day so they are too tired to get on each others nerves. Think it'll work?
I had a couple of hours to myself on Friday. Obviously I went to Target. Grabbed myself a popcorn combo of course. Anyone else put parmesan on their popcorn? Also, anyone else find themselves putting a ton of things in their cart they don't fully intend on buying, only to unload it all in a random end cap? No? Yes?
Quick story about this Target trip:
I needed some more of my
ELF concealer
and it was toward the bottom of the display. So I knelt down on one knee to grab it. I felt something cold but thought the floor was just cold. Then I realized it was water. Then I looked down and realized I was *this close* to crushing the biggest, grossest black water bug I've ever seen. I mean *this close.* I am certain it would have made a crunching noise and I am certain I would have fainted. What in the world was a huge black water bug doing on the makeup aisle of my happy place?!
Not really funny, but B thought it was...later that night, I was sitting on the sofa with my pj pants on and the string tie on my pants moved on its own. Don't ask me how it did but it did. And I didn't know it was the tie and got a flash of the black bug and immediately thought it had followed me home. I might have screamed. Really loud. And jumped....
You didn't see the bug. You would have too.
Anyway, I did redeem the trip by finding myself a cute new notebook. Nothing like a notebook of fresh, empty pages to inspire me. There is just something about the blank pages of one...
Also got myself the "Jesus Calling" devotional by Sarah Young, that I've been wanting for a while. I need a bit of a kick in the booty to get me going in the morning for my quiet time. Finally made it to the bookstore to grab it and it was on sale for 50% off! Only 10$ for the leather version. I was going with the intentions of settling for the paper back. Love when things like that happen don't you? If you've wanted this devotional book also and you have a Family Christian Bookstore, GO get yourself one QUICK cause the sale ends Tuesday!
Saturday, I decided to try to enjoy the sun in our backyard... Only to find myself dodging water balloons from a war going on between Asher and B. And getting soaked by a 4 yr old little girl who accidentally turned the hose on as high as it could go then tried to control it but couldn't and ended up spraying me instead. Twice.
My tanning lotion still had sand in it from the last time I used it. Which was in Hawaii. Which was so not the same as the scene going down in my backyard.
We also had an impromptu neighborhood movie night Friday. I love that our kids have so many friends on our little street.

I love this sweet season we are in as a family. It's a good one. You know how you can just feel it?
I can feel it.
So how was your weekend? Hope it was good! Time for a new week!
Happy Monday Friends!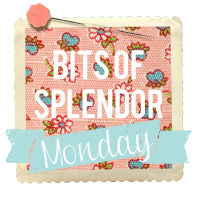 How did you find a little bit of splendor in your week?
Link it up and share it with us.
It truly is the little, distinct things that make life big. The important thing is taking the time to see them and I believe it can be in anything. A project, a recipe, a special moment or milestone, maybe just a word or picture you found encouraging.
"You will miss what matters most in life if you are only ever looking for the spectacular"