"The human tendency to regret yesterday and reach for tomorrow is alarming when considering all that God has planned for today."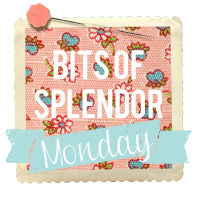 I loved reading through your posts from last week...
I am trying
these cookies
out asap,
want to steal
these girls
for an afternoon, to play with mine.
Was totally impressed and inspired by how
Mary
celebrated her husband on Fathers Day
and really loved
this post
about choosing joy.
How did you find a bit of splendor this week?
Grab a button, link it up and share!
>>>>>>>>>>>>>>>>>>>>>><<<<<<<<<<<<<<<<<<<<
Sidenote: I try to respond to every comment you sweet people leave me! Make sure your profile is linked up to your email or leave me your email address in the comment. I also respond in the comment thread sometimes, so check back there too!