These two could not be more opposite of each other. Asher begs her to play batman with him and Bella begs him to play "moms and dads" with her. Bella is my morning girl and Asher is our night owl. Bella will try anything, and Asher will only eat a certain group of foods.
They butt heads some times. They get on each others nerves.
My job as a mom and as a parent is to help them learn how to get a long. To help them learn that nobody else is just like them. That our opinions, and likes and dislikes and our interests and our personalities...no one is just like us. We are all so different from one another and unique.
Thats how God made us. Special and different.
Asher doesn't understand Bella and Bella doesn't understand Asher.
As I write this I'm picturing her in my head trying to get Asher to just try one of her oranges.
"Just try it" she says.
Thats a simple thing to her. She is always willing to at least try something.
Asher isn't. He is set in his ways and he likes his routines.
There's been times where separating them would be so much easier. Where sending them to their rooms to play alone would probably solve the issue
But I don't do that.
I make them work it out. Figure out how to work the situation so they are both happy. Compromise.
Learn to adapt and relate. Sometimes it's tiring. Sometimes it leaves me a little drained.
But then there are times when they find that common ground. Figure out a way to blend batman and moms and dads. Build tents and houses and play for hours on end. Chase each other around the house, and always ask where the other is when one isn't around.
...And they'll share a chair, and laugh at the most silliest of jokes that make no sense at all, except to each other.


These times are the ones I'm searching for. The ones I'm working for.
And the ones I'm so thankful to be here for. The ones I hope they'll remember forever.
>>>>>>>>>>>>>><<<<<<<<<<<<<
Also?
I really want to try this fancy version of
rice krispy treats linked up last week
I loved this post from Erin about
God breaking our hearts for the things that break His.
and I really wish I had the patience to do
this chevron project
somewhere in my house.
Good thing I have a patient husband who would probably do it for me ;)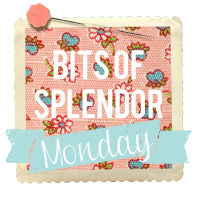 How did you find a bit of splendor in your week? Grab a button, link it up and share it with us.